Carefree in the Community
Alberta RV Dealer with Local Heart
At Carefree RV, we feel helping individuals and families in every way. Our happy staff and proud owners enjoy giving back to our community which is why we have teamed up with organizations and associations to help others who could benefit from experiencing more happiness and wellness. Our management team at Carefree RV, has a very deep personal commitment to charitable causes and our loyalty is directed to the ill or the less fortunate. Whether it be financial or emotional support Carefree RV always steps up. Putting smiles on children's faces and helping worthwhile charities helps us keep doing what we do, each and every day!
Giving Back... Together, we will make a difference
If your organization is in need of a self-contained Class C motorhome to help raise money and/or awareness for your cause, please contact our dealership for further details.
Whether it is for children with special needs, adults needing extra support, or teaming up with like-minded organizations such as the Edmonton Elks, the following are the most recent charities we have sponsored:
Edmonton Oilers Playoff Deals 2023


Carefree RV & Santa's Anonymous
Super excited to help Sant's Anonymous throughout this year - - From now until Dec. 15th we will be giving Up to $1500 towards any RV when one brings in a new, unwrapped toy! Ask one of our RV Specialists for more details.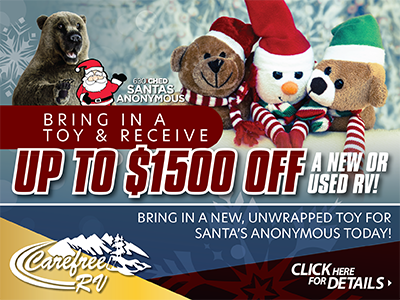 Carefree RV & The Fishin' Hole
Love ice fishing? Well, we have a perfect combination for you and your family/friends! Carefree RV has partnered up with The Fishin' Hole. With every Glacier Ice House purchase, we will provide up to $500 towards ice fishing gear and accessories to help you get started on your new ice fishing adventures!! Ask us for more details!!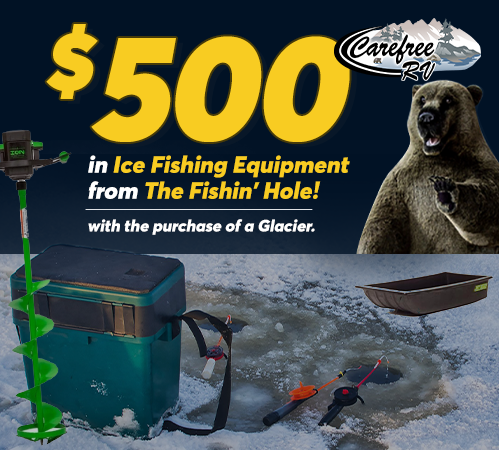 Carefree RV named one of the 6 Best Used RV Vendors in Edmonton
True to its name, Carefree RV tries to give its customers a carefree and enjoyable shopping experience! Read more about us here.

Carefree RV and Pigeon Lake Music Festival partnered up for this years amazing weekend:
July 29-31, 2022
Place: Mulhurst Bay, Alberta
Check out more here!
Update: We had a great time at PLMF - Met a lot of campers and RVers!! Looking forward to supporting all of the attendees - And, congratulations to Dorothy for winning the $250 Parts Gift!!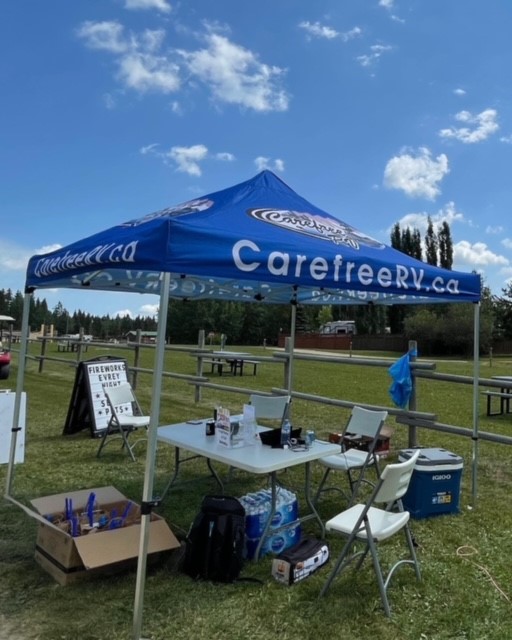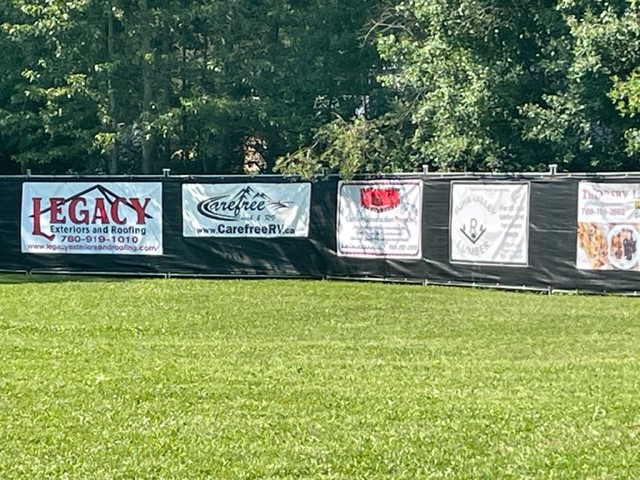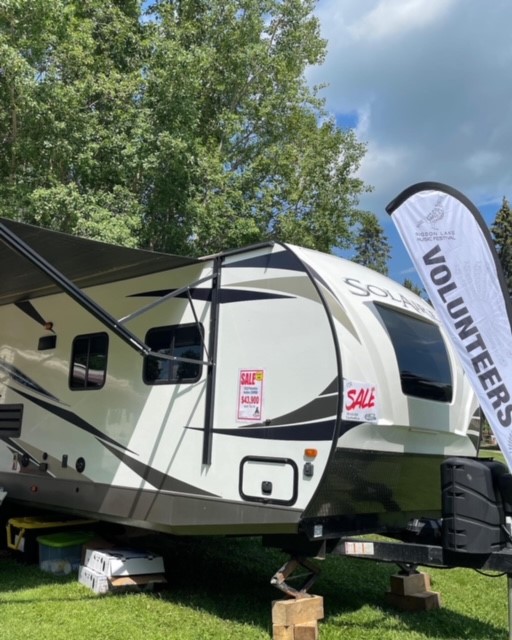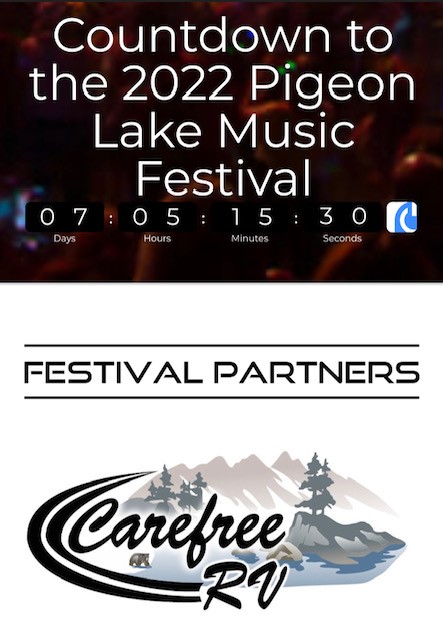 Carefree RV promotes 2022 DevonFest in Devon, Alberta on Saturday, August 13
Place: Devon Voyageur Park
Cost: Free!
General FREE Admission Passes available here.

ENTER TO WIN - HERE!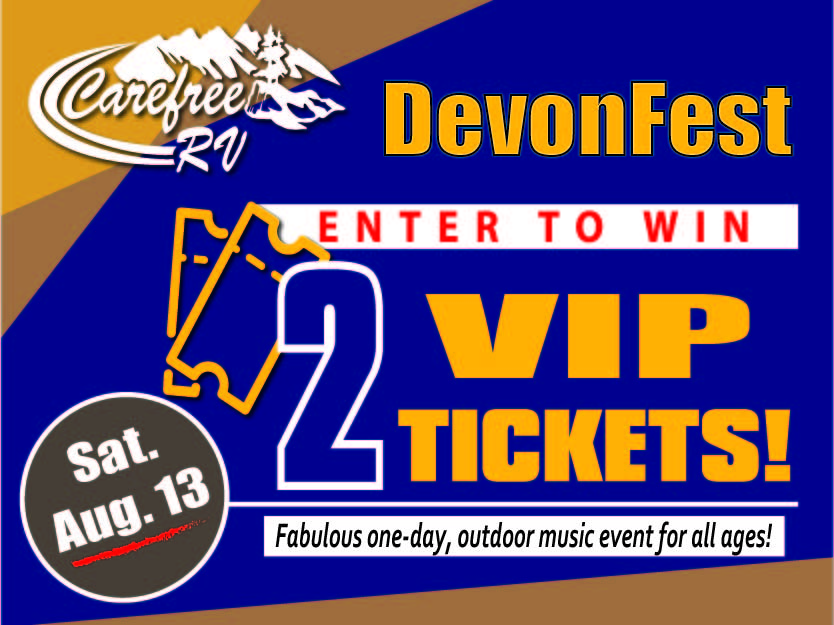 Carefree RV supports our Edmonton Elks along with Santa's Anonymous
Enter to Win 2 Lower Bowl tickets for each home game for this 2022 football season. And, stop by June 18th and 'Donate a Toy - Fill the RV' -Bring a new, unwrapped toy, puzzle, book, etc so Santa can spread the good news this Christmas!! If you cannot come down on June 18th then you can always drop off your toy to our Edmonton or Leduc locations. Carefree RV is excited to support our community team! Go Elks Go!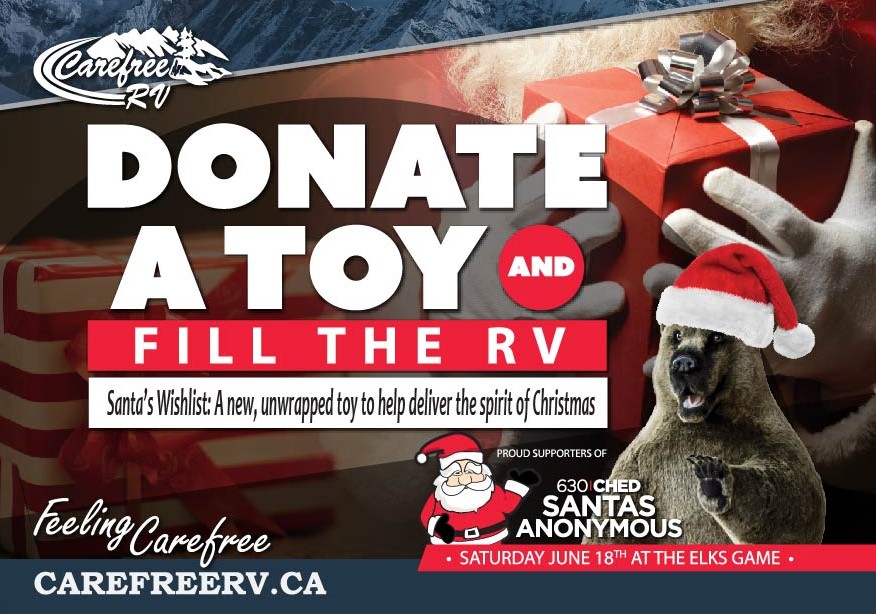 Carefree RV supports our Edmonton Oilers
Chris Sheetz and CISN Radio has been spreading the good news and cheer with the Edmonton Oilers! Carefree RV wanted to support our community team by providing a RV to and from 'Oil Alley'!! Great job Oilers, we are behind you every step of the way!!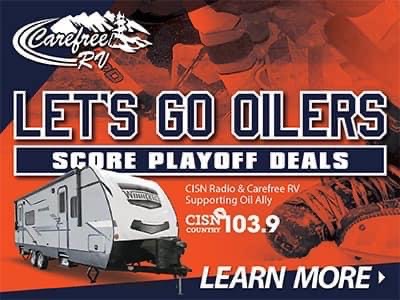 Carefree RV's Own Chris Sadleir's fundraising campaign "Walk to Breathe"
Started in 2020, Chris Sadleir began the fundraising campaign "Walk to Breathe" inspired by his father's experience as a double lung transplant survivor. Chris walked from Calgary to Edmonton in 2020, raising over $33,000 to support lung disease patients.
In July 2021, Chris completed his 500km 17 day walk from Lethbridge to Edmonton raising nearly $50,000 for the Lung Association of Alberta and the North West Territories. Let's give a big round of applause to Chris!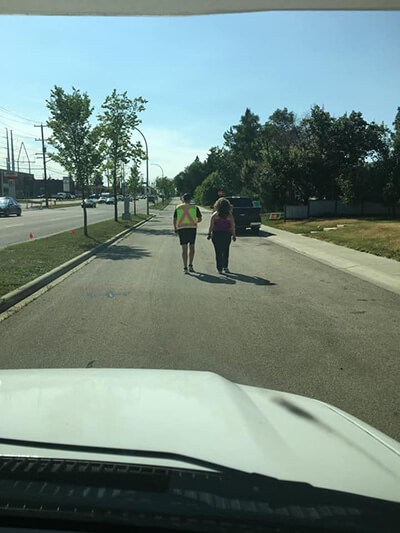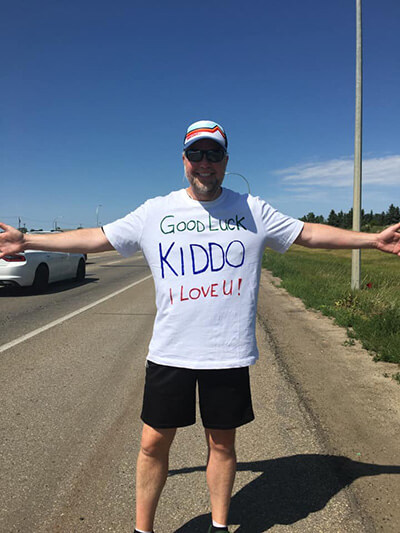 Leon's Community Outreach
Leon's South and Carefree RV both have one thing in mind ... to provide the best customer service and products for you, your family and friends. For all of your furniture, mattresses and appliances' needs, see Ryan at Leon's Furniture Edmonton South.
         
MAKING A DIFFERENCE FOR CANCER PATIENTS.

FEB 2021

Carefree RV is proud to be supporting this wonderful cause by providing two RVs for the hockey players!
In February 2021, 40 caring and courageous hockey players will strap on their skates to challenge the Guinness World Record by playing in the 7th edition of the World's Longest Hockey Game -- all while making a difference for cancer patients right here in Alberta.
Since 2003, the World's Longest Games have raised over $5.47 million for leading-edge equipment and research at the Cross Cancer Institute and this year is sure to be the best (and longest!) year yet. The players and volunteers continue to prove they have fire in their hearts and ice in their veins, with a goal of raising $1,500,000 in support of life-saving cancer research at the University of Alberta to benefit patients at the Cross Cancer Institute.
LET'S WIN THE FACEOFF AGAINST CANCER



Santa Anonymous & 630 CHED

Carefree RV gives back to Santa Anonymous with 630 CHED's 24th Annual Gary Draeger Golf Tournament! We are proud to be involved this year and hope to continue to give back to our Edmonton and Surrounding Communities via Santa Anonymous!! What a gift it is to be able to help support this great event!!
Relay for Life - June 10, 2017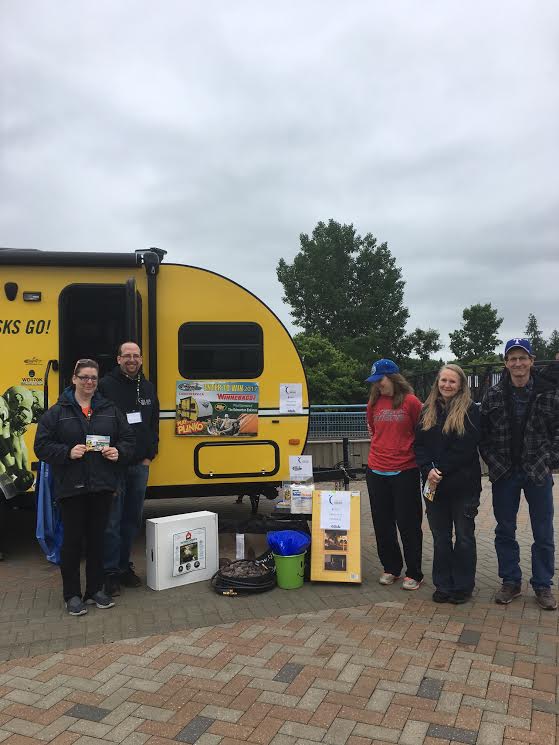 Giving Back to the Edmonton and Area Community for Cancer Research!
Esks Grand Prize Winner - Arlie Wilde, Sept. 2019



Giving Back to Kids Sport with the Edmonton Eskimos





Stay Connected on social media with our upcoming events!
contact us




Making Wishes Happen with the Rainbow Society - July 2020
Ezra and her family will have many happy camping memories with their NEW Salem Curise Lite Travel Trailer!