RV Service in Edmonton, Alberta
The credibility of our service department is astounding! Specializing in high-performance motorcoaches and RV towables, we are equipped to make your RV fit your exact tastes. We have top factory-trained, experienced technicians on duty during all business hours.
We honor all warranty work and favor any recalls. We accommodate any type of problem that may arise with your RV in an efficient, precise, and timely manner.
Winter is almost Here - - Schedule Appointment

It's time to put the mobile family home away for the season and
get ready
Let us help with RV winterization ... And, we will ensure your roof is leak FREE!
Package 1
Basic Winterization Special - $149.99
Drain freshwater tank
Pump non-toxic RV coolant through all lines (up to 2 gallons)
Inspect and top up tires for storage
Inspect tires and tread wear
Drain the hot water tank
Package 2
'Carefree' Winterization Special with Roof Touch Ups - $349.99
Drain freshwater tank
Pump non-toxic RV coolant through all lines (up to 2 gallons)
Inspect and top up tires for storage
Inspect tires and tread wear
Drain the hot water tank
Inspect all roof seals/rails (touch up where needed)
BOOK NOW @ service@carefreerv.ca 
RV Specials not applicable to motorized
Extra charges apply to units with:

Washer/Dryer, ice maker, dishwasher, extra's ($87.50)
Extra charges for emptying grey and black tanks ($300)
Extra charge over 2 gallons of RV Coolant ($10 per gallon)
Service Recommendations and Delivery
All drop offs or pick ups are by appointment ONLY unless other prior arrangements have been made.
RV Service Request
Please call our Service Department at 1 (877) 217-2008 to schedule your service work. You can also email us.
RV roof repair

RV fridge repair

RV fiberglass repair

RV hot water tank repair

RV propane tank repair

RV step repair

RV appliance repair

RV air conditioning repair

RV furnace repair

RV mobile awning repair

and so much more!
Our service team provides the confidence you deserve. From a simple electrical repair to an entirely new roof, trust Carefree RV for all your RV service needs.
We are committed and responsible in delivering a Carefree experience, which means that if you have service issues on your holiday, our 'jump to repair' motto helps you to get back into 'holiday mode' quickly and efficiently.
Combined with our large, well-equipped service bays, we provide exceptional after sales service repairs including factory warranty repairs for you, our valued customer.
Whether you have purchased from us before, or you are a new customer looking for a skilled RV Service dealership, we offer a variety of RV services that are preferred by most insurance companies. All of us at Carefree RV are here to exceed your expectations when it's time to service your RV.
Our fully stocked Parts Department ensures you of a speedy and quality repair. Carefree RV's professional and friendly staff are here to make your camping experience the best it can be. 
We Specialize in Insurance Claims
From time to time, RV owners, unfortunately, will have a mishap with their RV and require our assistance of filing an insurance claim. Carefree RV will provide a same day estimate to your insurance company. We are the preferred RV repair facility. From metal wall repairs to full fiberglass repairs, our complete collision repair facility can handle it all. With two 100' service bays designated for insurance claims only, we are the Premiere insurance repair facility for the Edmonton and outlying areas. Your RV repairs will be completed in a timely and courteous manner.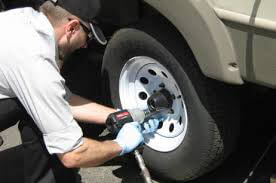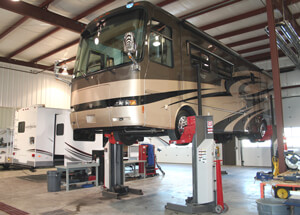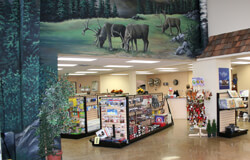 If you have any questions or concerns about servicing your motorhome or trailer, feel free to call us at (877) 217-2008 and we'll be happy to help you over the phone or assist you in making an appointment. Come talk to us about how to best maintain your investment and learn more about our available services!
Did You Know?
The roof of your RV should be checked at least two times a year for not only sealant but also for punctures from tree branches and other items. Your windows, doors, and hatches need to be checked once a year to prevent any water damage. It is our job to check all sealants on every RV.
Need Help?
Call our service department at 1 (877) 217-2008.
Service Reviews
Bonnie and (service) Dave have treated us with nothing but respect and honesty. Having gone through our fifth wheel with a fine tooth comb. They've been helpful in having our trailer inspected and taken care of. I would highly recommend.

- Cheyenne
This was our 1st visit to Carefree RV. It won't be our last even though we're willing to drive from BC & we will in the future. When we entered the dealership Bonnie, (service manager) took our information, got a diagnostic done right away. Then David (tech) explained to us he had good, better & even better news. They had the motor for our one slide & the mother board for our front furnace. David knows Tiffin's exception well.
Within 3 hours we were walking out of the dealership.
We received excellent service as these guys are very knowledgeable, super friendly & professional.
Thank you everyone.

- Roy
Read More Reviews